Proposed Midtown Point Development
---
The "Midtown Point" Project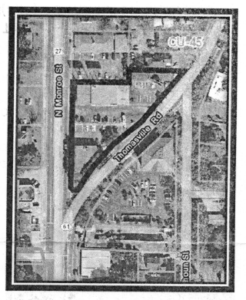 Where is this property?
The 3 parcels in this proposal are at the intersection of Thomasville Road and North Monroe Street. The site presently includes several businesses, including Signorama, SuperDave Window Tinting, and Tropical Smoothie Cafe, as well an office building, and parking. The current parking lots run east to west and provides access from both Monroe and Thomasville roads.
What legal changes are proposed?
These properties are already zoned CU-45, which allows the project MRI is proposing.
What does the developer want to build?
MRI wants to build a five-story building with 2 subterranean floors. The building would include commercial activities on the basement and ground floors; 24 Transitional residential dwellings on floors 2, 3, and 4; and the top floor would include a bar and restaurant. The development will accommodate 50% of its parking demands with a small parking garage and parking spaces provided in the northeast corner of the parcel.
How would this development affect Lafayette Park?
The proposal continues commercial activity at the southwest border of the neighborhood and could visually improve a parcel that is now half asphalt.
Potential Concerns of this Development:
• Parking How many onsite parking spaces will there be compared to the business expected to be generated? Lafayette Park is already struggling with overflow from other business locations along Thomasville and Midtown.
• Noise If the 5th floor bar and restaurant will be on the rooftop (as proposed) with outside areas, how will MRI control the noise so that it does not flow over the neighborhood from its 5th floor promontory? Currently this is a big problem in the College Town area.
• Congestion The Point has a lot of traffic throughout the day. How will MRI design entrances and exits to avoid making the area more dangerous and congested?
Actual letter from the Developer: midtown point project
Current Zoning is CU-45 (links to city regulation)